CHOOSE YOUR BUILD
CHOOSE YOUR VEHICLE

AWD Porsche Cayenne Turbo

500 hp turbo engine provides all the speed you need.

4WD Toyota Tundra

Our off-road equipped truck

Our vehicles come equipped with gimbal and jib arm remote controls, remote start/stop, interior monitors, wireless video, and communication headsets.

Wrapped in anti-reflective matte black, with custom racks and multiple mount points.
or choose from our specialty vehicles…
Polaris razr 1000
Maximum performance for any terrain
23' Mastercraft X-25 Speedboat
6.2 liter/V8 engine
2. CHOOSE YOUR ARM
ULTRA
12' arm, 55 lb. payload, 360° swing. Movi XL gimbal comes standard. Other gimbals (Newton, Shotover) available.
MOTOCRANE classic
9' arm, 35 lb. payload, 360° swing. Ronin 2 gimbal comes standard.
VERSA ARM
Fixed rear- or front-mounted 8' jib, 35 lb. payload. Ronin 2 gimbal comes standard.
FLOWCINE BLACK ARM
The Black Arm is a fixed arm and can be mounted to either the front or the rear of our vehicles.
Can be mounted as a 2nd camera for use with the Classic or the Versa, for seamless inter-cutting.
The Black Arm is an industry standard for stabilizing from a boat, snowcat, ATV or any other vehicle, We can rig it for any situations.
3. SAVE TIME, SAVE MONEY by bundling ADDITIONAL services.
CAMERA
A variety of camera packages and lenses are available.
DRONES
Our licensed, Part 107 drone operators fly Inspire 2 drones, dual operator with X5S cameras and RAW license.
Heavy-lift services for your camera of choice are also available.
JIB
Our 18.5 foot jib can be used indoors or outdoors, stationary or on dolly track. Our jib team specializes in fast, efficient set-ups.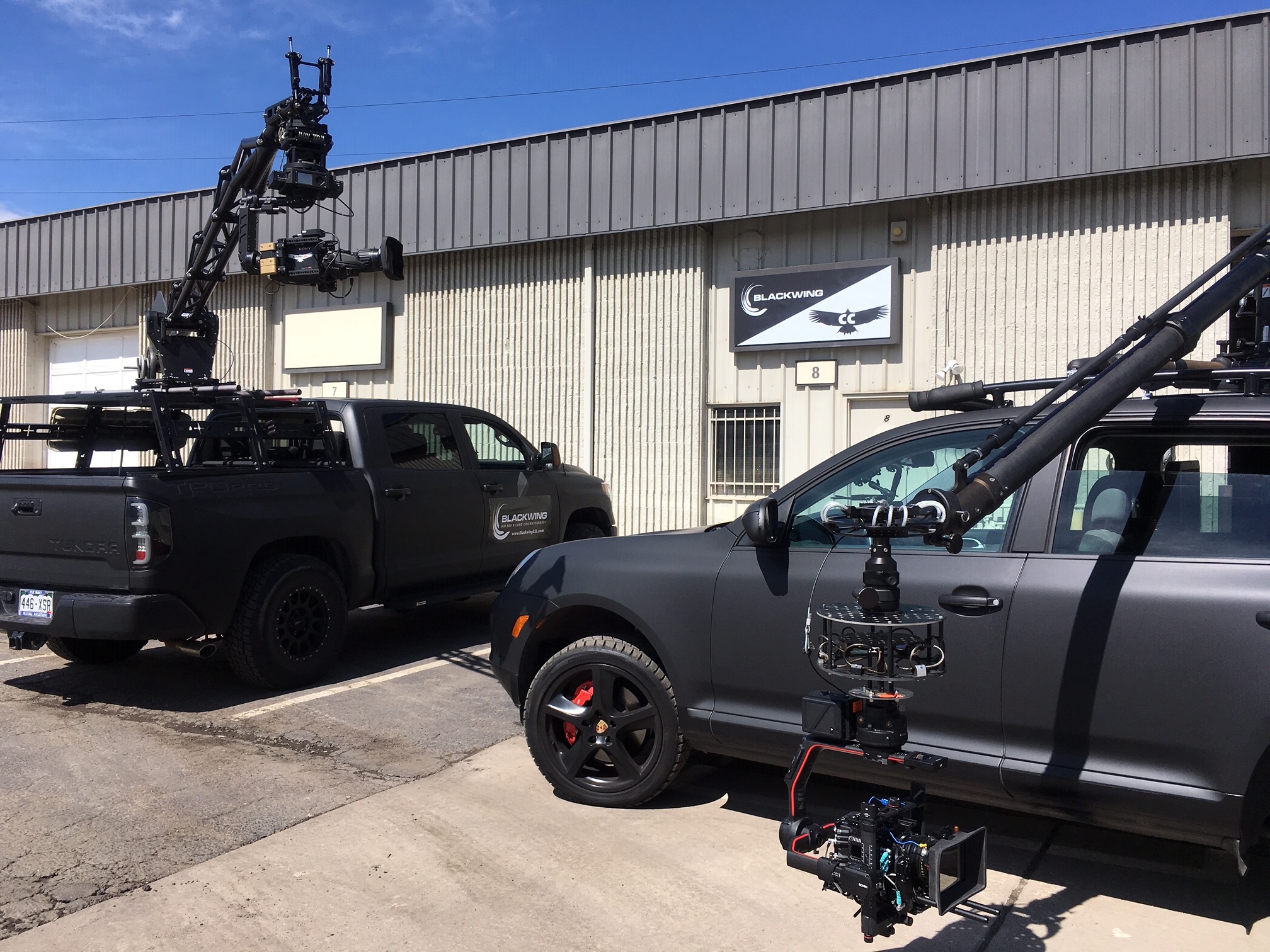 CLIENTS
Partial client list includes:
General Motors • Discovery Channel

Monday Night Football

Pilgrim Studios • Safran Aerospace

Rocky Mountain Metropolitan Airport